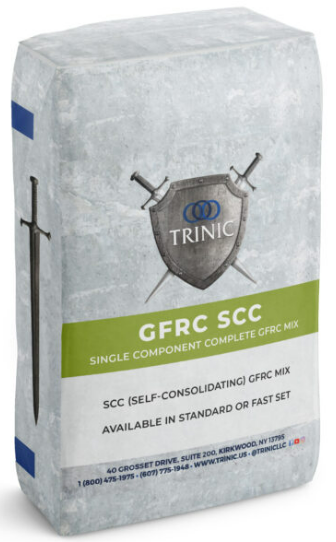 SCC PREMIX (SELF-CONSOLIDATING CONCRETE)
GFRC- SCC . Superior Strength Balanced GFRC complete mix. This is a complete blend of white Portland cement, graded Quartzite sand, Silica Fume, Plasticiser and Trinic's revolutionary admix blend. The proportions in this mix are designed to provide maximum strength for both compression and flexibility as well as superior consolidation. As with all of our products the GFRC Back coat premix is third party tested so you know that you're working with the best materials.
** The 45 lb. bag may be far less expensive to ship as it is under the heavy weight shipping limit.  We suggest testing both sizes at checkout to see your shipping cost.
*NEW* - Our FAST-SET mix, with CSA added, is blended so you can demold in 2-4 hours (depending on shop conditions).  It will not be as white as the regular premixes.  We encourage testing to make sure you're happy with the results.
((56 50lb. bags /pallet))
Each bag contains a desiccant packet to keep the product dry.
DO NOT USE